Turkiet - Yoga bland olivlundarna i Göcek
Detta är en av de få platser som man skulle vilja hålla för sig själv. Det brittisk-ägda retreatet öppnade redan 1993, som en plats för en inspirerande och avkopplande yogasemester vid Turkiets sydkust. För många yogalärare är detta ett favoritställe för att hålla yogakurser. Retreatet ligger för sig självt bland olivlundar i en lugn dal. På natten hör du inget annat ljud än syrsor, enstaka hoanden av någon uggla och på våren sången av näktergalen. Det är endast ca 10 minuter med bil till staden Göcek med strandpromenad, strand, restauranger och shopping.
Boende & mat
Retreatet är uppbyggd kring en renoverad traditionell olivfarm med en fin liten stenbelagd swimmingpool och en rymlig och vackert skuggad yogashala. Boendet är i bekvämt inredda jurtor utspridda bland olivlundarna. Några "vanliga" rum är också tillgängliga. Kombinationen av ett fantastiskt och orört läge, välkomnande och erfaren personal och omtalad mat garanterar en minnesvärd upplevelse som gör att många återkommer år efter år. Gästerna tenderar att dela liknande intressen och värderingar, vilket skapar en vänlig, stödjande och livlig atmosfär som är särskilt välkomnande för den som reser på egen hand. Det finns också gott om plats att dra sig undan och vara för sig själv om du vill.
Boendet är lite speciellt och väldigt trevligt. De flesta gäster bor i moderna jurtor, i stilen av traditionella nomadtält, men i detta fall bekvämt inredda med riktiga sängar, trägolv och elektricitet. I toppen finns en öppning, som kan stängas vid regn eller kyligt väder, genom vilket du även från sängen kan titta på stjärnorna. Badrum delas med andra deltagare, fördelat på tre byggnader med toaletter, duschar och tvättställ, alltid rena och snygga. Det finns totalt 28 bäddar.
Det turkiska vegetariska köket som du serveras här är känt långt utanför Turkiets gränser, de har till och med gjort en egen kokbok som du kan köpa på plats. Du kan när som helst ta en kopp kaffe eller te, det står framme hela dagarna. Stämningen är varm och avslappnad, du känner dig som en del av en kärleksfull familj, samtidigt som det finns gott om utrymme till att hitta din egen plats för dig själv.
Tre gånger om dagen serveras ni en måltid på den vackra terrassen som skuggas av vinrankor. Det finns många engelska deltagare här, men också andra deltagare från hela världen. Maten är otroligt god. Allt är vegetariskt, lokalt från regionen, variationsrikt och aldrig densamma.
Det turkiska köket är erkänt som en av de stora köken i världen och detta återspeglas i den läckra vegetariska maten här baserad på färska lokala produkter - frukt, grönsaker, baljväxter, nötter, ost och yoghurt. Gästerna visar ständigt uppskattning över den fantastiska variationen av rätter.
Retreatets egen kokbok producerades på allmän begäran från gästerna, och innehåller 70 sidor med enkla, goda och hälsosamma turkiska recept. Den kostar ca 150 SEK och kan köpas på plats.
Drycker som läsk, vin och öl går att köpa i baren där du kan sitta i bekväma soffor och umgås med andra. Eller ta med din dryck och sätt dig ner på kuddarna i det stora umgängesrummet utan väggar. Här finns även en vedeldad kamin att samlas kring de lite svalare kvällarna i början och slutet av säsongen.
Yoga
Från april till oktober arrangeras yogakurser av olika yogainstruktörer, de flesta är engelska. De olika instruktörerna har lite olika upplägg, men normalt är det två rejäla klasser per dag, ibland kompletterat med morgonmeditation och kvälls-chanting. Vissa veckor kan det vara en ledig dag mitt i veckan då man t ex kan göra en utflykt. Mellan klasserna finns det gott om tid för en massage, slappa bekvämt i en hängmatta mellan olivträden, ta ett dopp i poolen eller besöka kuststaden Göcek (20 minuter med taxi). Ibland finns en heldags båtutflykt på programmet, en underbar heldag då du kan ta ett dopp i det turkosa Medelhavet.
Yogashalan är rymlig och vackert omgärdad av grön växtlighet. Yogakurserna är lite olika beroende på veckans instruktör, alla med sin egen stil.
Program
Anna Ashby Yogaretreat
15-22 maj
The yoga sessions will be held in the beautiful yoga shala that is fully equipped. Each day begins with a two and a half hour yoga class that reflects a particular teaching on yoga and includes alignment-based instruction. The day ends with a restorative yoga class that includes breathing exercises and meditation.
Anna Ashby is one of London's leading yoga teachers and has been studying and practicing yoga for 24 years and teaching for 15 years. An experienced teacher, she holds the highest level of certification by the Yoga Alliance (UK) – Senior Yoga Teacher (SYT) and Yoga Alliance (US) E-RYT-500.

Her style reflects precise instruction that combines healthy alignment and intelligent sequencing with an appreciation for flowing artful movement. Her approach is methodical and accessible and incorporates the teachings of yoga in a way that is practical and makes sense in modern context.

Workshops and retreats are focused on learning and discovery and the environment open and friendly.

Anna teaches at triyoga in London and is a founder and senior faculty member of the triyoga™ teacher training programme, one of the most comprehensive and rigorous training programmes in Europe.
Yoga with awareness med Ken Eyerman
22-29 maj
Ken Eyerman has more than 35 years' experience teaching Yoga & Bodywork and is a trained practitioner of the Feldenkrais Method. He will bring his wealth of learning to this week's unique blend of flowing yoga with gentle inner sensing Feldenkrais movement awareness lessons. Ken's intuitive, spontaneous and hands-on approach places an emphasis on using the breath, an awareness of your inner process and how to use your body efficiently. This combination will ease you into the postures and classes are suitable for all levels of experience, including beginners and those who have injuries or are restricted in their movement.

Ken has worked with many teachers over a lifetime's yoga practice and has developed his own style of teaching, bridging the space between the dynamic and the gentle, spiralling Feldenkrais movements.
Ken is author of an inspirational book, MASSAGE and was named as one of the London's top three masseurs by the Evening Standard. He previously worked at the London Contemporary Dance School as bodyworker in residence and now has a busy private practice at Natureworks in London as well as running his Yoga with Awareness holidays internationally. The Ken Eyerman School of Bodywork and Movement is affiliated to the Institute of Complementary Medicine.
Yoga with Nadia Narain
12-19 juni
The yoga sessions will be held in the beautiful yoga shala that is fully equipped. Each day begins with a two and a half hour yoga class that reflects a particular teaching on yoga and includes alignment-based instruction. The day ends with a restorative yoga class that includes breathing exercises and meditation.
We have very special hand selected body workers and therapists invited to encourage you to take time to look after yourself on this retreat.
Nadia teaches yoga to everyone: from professional athletes, to pregnant women, to absolute beginners, adapting the practice to the individual's needs and ability. She has been teaching since 1996 and is one of triyoga's original and best-loved teachers, having taught there since it first opened.

Nadia is one of UKs leading teachers and holds Senior Yoga Teacher 500 hrs with YA (SYT).
Yoga with Simon Low
26 juni-3 juli, 14-21 augusti, 21-28 augusti
Simon Low, one of the UK's leading teacher trainers, has been teaching yoga internationally for over 20 years and has developed a unique and personal teaching style, keeping classes diverse, focused and fun. Simon's teaching reflects his training and ongoing studies with international teachers in many forms of Hatha and Classical yoga.
Simon's Yin and Yang Yoga teaching is a balanced and thorough approach to yoga practice, on and off the mat, incorporating practices that address the seen physical body and the unseen, yet equally felt, energetic being.
Simon is the Principal of The Yoga Academy, one of the UK's leading yoga teacher training schools and was the original Director and a co-founder of Triyoga, the UK's most renowned yoga studios.
Simon is assisted at all his yoga events by experienced Yoga Academy teachers, ensuring that all students are effectively guided and supported throughout his classes.
Yoga with Nigel Gilderson & Belle Greenwood
3-10 juli
Each day will begin with a two hour yoga class in the spacious and fully equipped yoga shala, set amidst the olive trees and vines. The morning class will include asana, meditation and pranayama. Gently opening the body and attuning the mind to the breath, the class will slowly move and build into a flowing and dynamic sequence, always incorporating the cultivation of awareness, physical alignment and breath. The classes will be suitable for all levels and yoga experience.
There will be time set aside in the day to explore and take in the stunning beauty of the surroundings. The group will meet again in the late afternoon for a second yoga session, which will be a more gentle class for one and a half hours. There will be one yoga free day during the week.
Belle took up yoga some 18 years ago. Drawing from her studies across a wide range of traditions – Sivananda, Ashtanga, Iyengar and Scaravelli – Belle teaches flowing Hatha yoga weaving asana on the breath, pranayama and meditation according to level & context. Her aim is to help students establish a sustainable, safe and enjoyable practice, leading towards greater well-being, clarity and joie de vivre!

Nigel Gilderson has been teaching yoga for the last 15 years. He has evolved his own personal style of hatha yoga drawing on influences from the Sivananda, Iyengar, Astanga, Scaravelli and Shadow yoga traditions. His classes incorporate the core principles of mindfulness of breath from stillness to movement. Students gain a unique blend of opening and release through relaxation. Drawing on influences from Qi Gong and Tai Chi traditions practitioners cultivate qualities of balance and stability.
Yoga for life with Tuesday McNeill & Marc Woolford
10-17 juli
Yoga shows us how to live a life of balance in a world of constant change. A week of dedicated practice in the heart of nature will bring you back to yourself. Discover how to combine the physical aspects of posture work with an exploration of yoga's potential for cultivating self-awareness through asanas, breath work, movement enquiry, mindfulness practices and relaxation techniques. When you learn to understand your thoughts, feelings, physical habits and reactions on the yoga mat, you can apply that to everyday life.
Tuesday has been teaching for 20 years and practicing for 25. The warmth of her down-to-earth approach makes the practice accessible to everyone. Her main influences are Iyengar, Scaravelli and Sivananda traditions of yoga. Her sessions focus on asana work to encourage ease of movement and freedom for the breath in preparation for the subtle practices of pranayama and meditation.

Marc Woolford is deeply committed to the path of yoga as the way to reconnect with the natural ease of moving and breathing that is our birth right. Inspired by Vanda Scaravelli, Feldenkrais, Qigong and other bodywork disciplines, Marc brings an extraordinary sensitivity and depth of insight to his teaching. By encouraging a deep presence to what's going on beneath the surface of each movement, his approach offers students the opportunity for whole-hearted engagement in the process of self-enquiry that starts on the mat but doesn't end there.
Ashtanga yoga retreat with Joey Miles
24-31 juli
This is a wonderful opportunity to deepen your yoga practice in an idyllic retreat setting, the daily schedule includes sitting meditation, Mysore style self-practice and the traditional counted primary series method in the mornings.
Afternoon workshops include asana technique class, restorative yoga, chanting and pranayama.
Vinyasa Flow, Restorative and Slackline Yoga with Polly Clark and Dave Hoyle
31 juli-7 augusti
Immerse yourself in a deep flowing practice and enjoy deep restorative sessions at our summer retreat. Starting the day with energy and grace we will delve deeply into nourishing, meditative flows to set the tone for the day ahead. Over the week we will focus on increasing our stability in standing poses, finding balance and poise in our standing and arm balances, joy in our backbends and surrender in our forward bends. Vinyasa Flow is a dynamic form of Yoga, poses are linked to one another with the breath forming a graceful dance like practice which can be highly meditative.
Every day we will have another optional arm balance play class where the focus will be on experimentation and playfulness.
We will also have slacklines set up during the day. Slackline Yoga is highly addictive, fun and a great form of moving meditation. It is an incredible tool for developing focus and spatial awareness which brings immediate improvement to all balance asana. We will be on hand to guide you in your first steps to playing on the line.
Our afternoon sessions will be all about the restorative aspects of yoga. Dave is a qualified Restorative Yoga teacher and a highly experienced Thai Yoga Massage practitioner. He will guide us through deep restorative sessions while giving individual physical assists to everyone throughout the week. The studio is fully equipped with all restorative props (bolsters, bricks, blankets etc.)
Expect to feel totally relaxed by the end of each day.
Polly is a highly experienced Vinyasa Flow teacher who infuses her classes with a playful enthusiasm. Having initially trained with Richard Adamo who came from a strong Ashtanga and Iyengar background, Polly went on to discover Vinyasa Flow yoga and fell in love with the practice. Over the last few years she has trained with both Kathryn Budig and Jason Crandell and favours a steady, mindful flow practice. She is a huge believer in the idea that yoga is for every body and is hugely encouraging no matter what level your yoga practice is. She likes to inspire students to find the joy in movement and in just feeling how each pose feels. Polly also loves Slacklining and loves to teach this moving meditation to others.
Polly runs Mountain Yoga Breaks offering retreats, weekends and workshops in Wales and overseas combining yoga with adventures on mountain bike, on foot and on a slack line. Her weekends have featured in the Telegraph and Singletrack magazine.
Dave has two main passions in life; his 15 year career as a Thai Yoga Massage therapist and teaching Restorative Yoga.
Initially studying for 5 years and teaching for 7 years as a movement and gym teacher, Dave went on to integrate his love of Yoga and Tai Chi into Thai Yoga Massage.
Dave has developed his teaching within Restorative Yoga by bringing his experience within Thai Yoga Massage of how the body needs to move to release tension, stress and trauma.
This approach into the energy systems, fascia, soft tissues and articulations of the joints, helps to restore and regain balance within the many levels of the body.
Thai Yoga Massage and Restorative Yoga are very closely related. They are both completely passive practices, holistic and healing in their approach, both bringing a deep and profound sense of calm, release and deep relaxation during and after being on the mat.
Subtle adjustments in a Restorative Yoga class can make all the difference to the success of a pose.
During a Restorative class with Dave, you will be guided through supported postures, finely tuned to your own specific needs, and taken deeply into relaxation with hands on assists.
Yoga with Tanfer Taka
4-11 september
This yoga holiday week is with Tanfer.There will be two daily sessions of around 2 hours, a more dynamic class before breakfast and a restorative and posture based class in the late afternoon, including passive stretching, breathing and meditation.
You will have the remainder of the day to relax, absorb the benefits of your yoga practice, walk in the surrounding forests and mountains, have a day out on a boat trip, go to the beach, visit nearby places of interest or ancient sites, shop – or to simply enjoy relaxing in the hammocks or by the pool with your book.
Tanfer has been practicing yoga for 16 years and has been teaching for four, in Turkey and in Scotland. He is a graduate of The Yoga Academy's Teacher Training Course with Simon Low and the British Wheel of Yoga (BWY). His style is based on the teachings of Sri T. Krishnamacharya and T.K.V. Desikachar, which places the emphasis on the individual in yoga. Tanfer blends many classic yoga postures in dynamic and gentle forms and delivers energetic, fun, loving and restorative classes to meet each person's individual needs – an ideal introduction to the benefits of yoga which will leave you feeling refreshed, balanced and invigorated at the end of your holiday.
Yoga with Carol Macartney
18-25 september
She is a popular yoga teacher on the Isle of Wight where she runs weekly classes, workshops and retreats.
Although originally trained in the Sivinanda style of yoga, she has spent her life exploring many styles and worked with many of the world's talented teachers, although her heart is held deep in the Advaita Vedanta teachings of Clive Sheridan, whom she considers to be her teacher on every level and has been for the last fifteen years.
She has developed a personal teaching style which she now refers to as Intuitive yoga flow and over 2014-15 trained as a Shakti Dance teacher(the yoga of dance) under the wise and loving guidance of Sara Avtar (the creator of Shakti Dance).
Laura has been teaching at Triyoga in London for nine years and offers mindful, deep vinyasa flow, with attention to alignment and paces classes for all levels.
Over the years she has worked with Patabhi Jois, Shiva Rea, Clive Sheridan and many more and infuses her classes with the strength of Ashtanga, the grace of Vinyasa flow and the warmth and open heartedness of the path of self-enquiry.
This retreat will offer participants over 30 hours of authentic, diverse and loving teachings and promises to awaken the joy within.
Klimat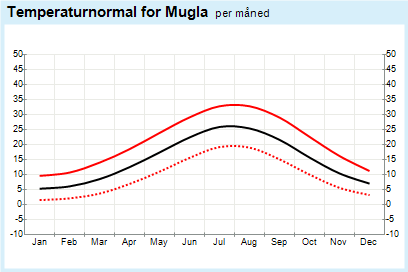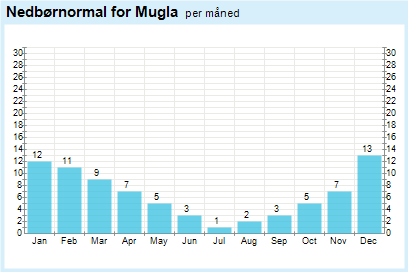 Resefakta
Yogaform: Olika beroende på veckans instruktör.
Ankomstdag: Ankomst och avresa på måndagar. Yogaklasserna hålls normalt tisdag-söndag.
Innehåll: 7 nätter, helpension, vatten, te, kaffe, alla yogaklasser. Yogamattor finns att låna.
Ingår ej i priset: Flygresan, transfer, läsk, vin, öl, utflykter.
Boende: Delat dubbelrum (se texten) med separata sängar eller dubbelsäng, delad dusch/WC.
Enkelrumstillägg: I mån av platstillgång kan enkelrum bokas mot ett tillägg.
Resväg: Flyg till Dalaman, därefter taxitransfer ca 45 minuter som kostar ca 50 EUR per bil en väg (betalas på plats).
Flyg kan du boka via vår onlinebokning. Om du vill så kan vi hjälpa dig att söka och boka.
Kolla även charterbolagen på solfaktor.se eller charter.se där du kan köpa en flygstol.
Klassernas storlek: 12-25 personer, ganska ofta fulla klasser. Många av deltagarna kommer från England, men även från andra håll i världen vilket skapar en inspirerande internationell atmosfär.
VIP club: Gratis transfer från och till flygplatsen